Our team is committed to educating our clients on how to keep your pets healthy year round, with good nutrition and exercise. Poochie's Pampered Pups is well-known for providing award-winning dog daycare, grooming, and boarding; completely cage free! With over 700 clients, it's easy to see why Poochie's Pampered Pups is Sarasota's preferred dog haven. Located conveniently on 7311 Proctor rd., our facility contains 2.5 acres to run and play plus a spacious indoor air conditioned facility.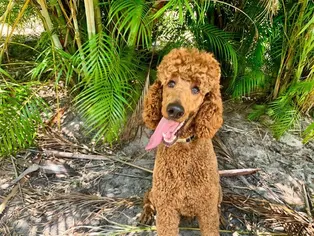 Poochie's Pampered Pups is a full-service canine care facility and welcomes new clients as well as existing clients in need of routine grooming, playtime, and dental care. Bond Smith has 16 years of experience caring for pups and offering cutting-edge canine care. Your first day of doggy daycare is free, just schedule a meet-and-greet and provide us with your pup's vaccine records.
We are happy to offer a number of resources that enable you to learn about how to take better care of your pets. Please feel free to browse our including our online store, which offers carefully curated toys, treats, and even gift cards. If you have any questions, call (941) 312-4969 or email us and we'll promptly get back to you. Our Sarasota paw-perty is very easy to get to -- just check out the map below! We also welcome you to subscribe to our newsletter, which is created especially for Sarasota dog owners.
At Poochie's Pampered Pups, we treat your pets like the valued family members they are.