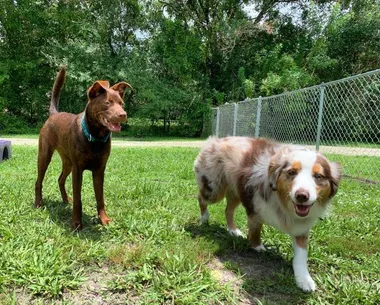 Dog Overnight Boarding at Poochie's Pampered Pups
When you go on vacation, a business trip or spend a weekend away, it's important to have reliable care for your pups. Overnight pet boarding for dogs with Poochie's Pampered Pups is a great way to make sure your pup is comfortable and well taken care of while you enjoy your trip.
Boarding Services
When you bring your pup for an overnight stay in our boarding center, you can be assured that we will treat your pet like a member of our own family.
Comfortable overnight accommodations for dogs
Group socialization for dogs
A cage-free, air-conditioned facility
Continuous playtime
2.5 acres to run and play
A pool for swimming
And a Zen Den for doggy lounging
Medication administering
Additional services upon request
Overnight Stays for Dogs
We provide dogs with cage free, comfortable pet boarding services at Poochie's Pampered Pups. Our loving and caring staff is well-trained to provide your pup with everything your pet needs during his or her stay. Dogs spend the day in our cage-free daycare facility so that they can socialize and play and at night in, they are separated into large sections of the daycare rooms. We prefer you provide their regular food to help a calm stomach. To make your pet feel more relaxed and comfortable, you can bring his or her favorite toys (nothing sentimental), bedding (must be washable) and treats (no long term chewies). If your pet has any special needs or needs daily medication, just let us know, that's no problem. If you would like additional services, like baths and grooming before, we can do that too.
To learn more about boarding services with our team, call us today at (941) 312-4969.
Boarding Prices
Boarding prices are calculated by; overnight $40, plus a daycare $32 (large dog) or $29 (small dog). Extended stay discounts are available, as well as discounts for multiple dogs.